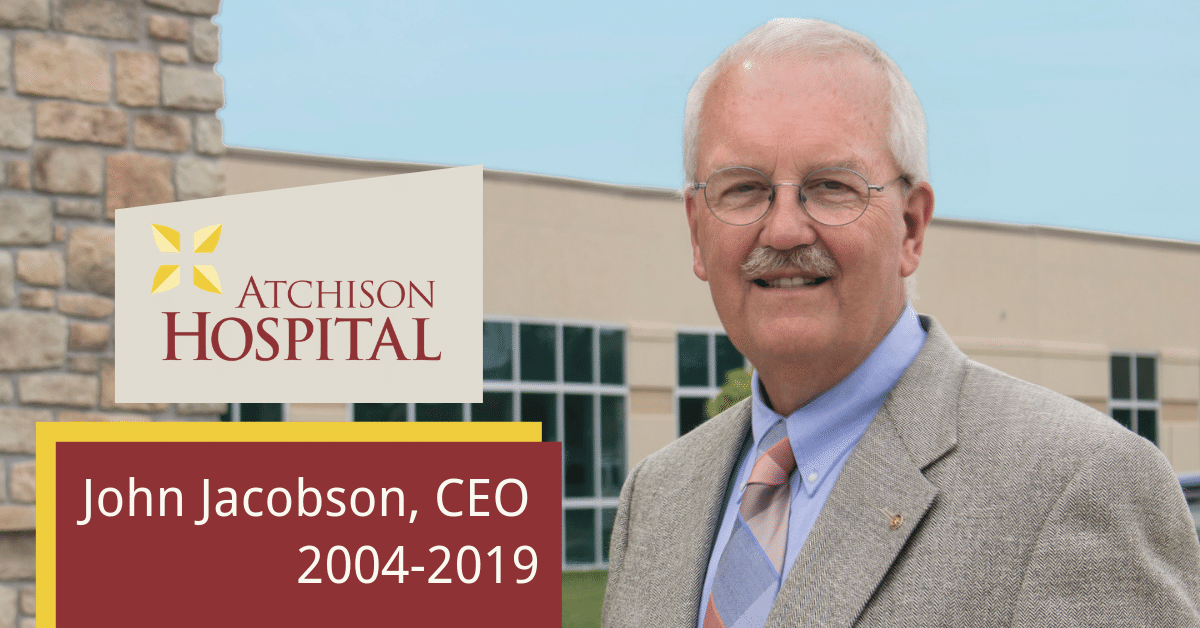 It is with sincere gratitude and a touch of sadness that we celebrate the retirement of Atchison Hospital's CEO, John Jacobson. For the past 15 years John has been an outstanding leader and a true inspiration to those who have worked beside him and those in the community. All are invited to attend a reception for John on Monday, June 24th from 4:30 – 6 p.m. in the Hospital Cafeteria.
Community Retirement Reception
Monday, June 24, 2019
4:30 – 6 p.m.
Hospital Cafeteria
During John's Tenure at Atchison Hospital
2004 – John becomes CEO
2005 – Cray Manor is closed
2005 – Atchison Hospital becomes a Critical Access Hospital
2005 – Business Health Services, now Advance Health Services, is founded
2007 – Courtney S. Turner Imaging – Atchison Hospital upgrades CT scanner and brings MRI technology in-house
2010 – Atchison Hospital moves to a brand new facility
2012 – Dr. E.J. Wilkinson, renowned orthopedic surgeon, is on-boarded
2012 – Atchison Hospital celebrates its 100-year anniversary
2012 – 2014 – Addition of new providers to Medical Staff
2016 – The Hospitalist Program is founded
2017 – Atchison Hospital enters into a partnership with the YMCA for the use of the aquatic therapy pool
2018 – Atchison Hospital begins offering after hours care in the Walk-in Clinic to better serve the needs of the community
2018 – Blue Cross Blue Shield of Kansas recognizes Atchison Hospital as a Blue Distinction Center for Maternity Care
2018 – John receives the Donald A. Wilson Visionary Award from the Kansas Hospital Association
2018 – John receives the Quality of Life Award from the Atchison Chamber of Commerce
2019 – Advanced Health Services is scheduled to expand
John leaves behind an impactful legacy, not only for Atchison Hospital, but also for the Atchison Community.
Thank you, John, for all you've accomplished.