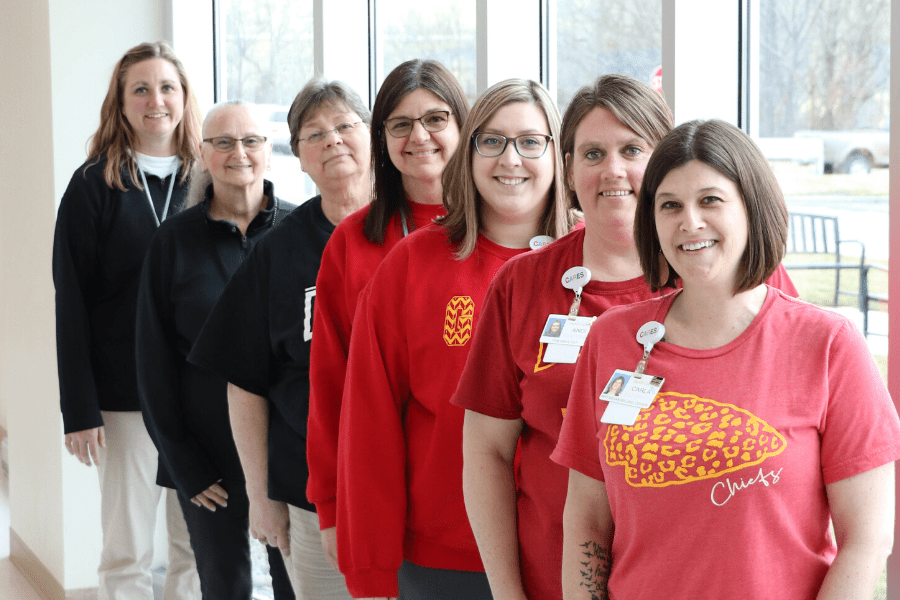 A great healthcare information management team is at the core of everything a hospital does, and we are extremely fortunate to have an excellent team at Atchison Hospital. 
March 22-28 is the thirty-first annual Health Information Professionals Week, and we are happy to take this opportunity to get to know our own health information management team in honor of the occasion. 
The HIM Team 
Led by HIM manager, Diana Gaddis, our HIM team currently consists of eleven members, including two full-time, remote members working from Iowa and Missouri. 
HIM team members:
Diana Gaddis,

Health Information Manager

Nancy Hager*,

HIM Analyst

Andrea Contreras,

HIM Analyst/Coder

Loir Clark*,

HIM Team Lead

,

Coder

Vonda Ostertage,

HIM Transcriptionist

Vicki Stafford,

HIM Transcriptionist/Clerk

Christy Crockett,

HIM Coder

Carla Thompson,

HIM Coder

Kirstin Gimson,

HIM Coder

Megan Kear*,

HIM Coder

Elizabeth DeWitt,

HIM Analyst

 
*Not pictured
The HIM team works diligently to ensure the availability, accuracy, integrity, and security of all data related to patient healthcare encounters. The work they do enables our organization to make better clinical and business decisions that enhance the overall quality of the healthcare that we provide our patients. 
HIM's Work
As of April of 2019 and the MEDITECH Expanse EHR implementation, ninety-five percent of HIM's work has become digital. The team has worked hard over the past year to adjust to a completely new workflow and learn the advanced, web-based, health information system.  
HIM's responsibilities include:
Medical coding

Medical transcription

Determining medical necessity for treatments, procedures, or services of illnesses

Providing information to physicians about the patients they are treating, as requested

Assembling and maintaining medical records

Maintaining privacy, security, and confidentiality 
Helping Patients behind the Scenes
Although the team members deliver excellent customer service to patients regarding patient records requests and more, much of what they do is behind the scenes. Many of the team members said that they went into health information management because they had a strong desire to serve in healthcare and help people but wanted to be able to do so in a more behind-the-scenes role. 
HIM manager, Diana Gaddis, said, "In this department, we work really well together. We genuinely care about each other as people and employees of this hospital. We care about the work that we do. We care about the patients. This department is fully invested in this hospital and wants it to succeed."  
This team loves being able to assist the providers and the different departments of the hospital in creating the best possible overall patient experience.  
Media contact: Elizabeth Collins, Director of Marketing and Communications | marketing@atchhosp.org | 913-360-5577