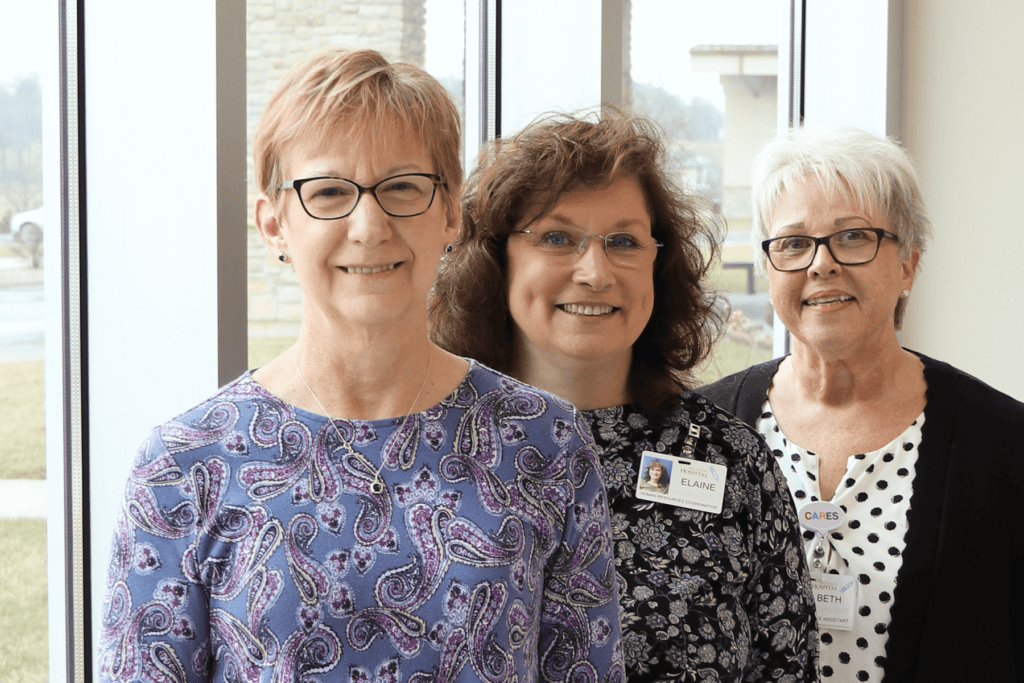 March 16-20th is Healthcare HR Week, and we want to take this opportunity to celebrate and get to know our Human Resources department.
Human Resources Team Members
The HR team serving the Atchison Hospital and clinics is made up of 3 members.
Jill Wenger: Jill has been the Chief Human Resources Officer for five years and leads the department.
Elaine Laurie: Elaine has been with our organization for ten years. She handles special projects, FMLA (The Family and Medical Leave Act), and workers' compensation.
Beth McKnight: Beth has been with the HR department for almost a year and a half. Her main tasks are recruiting, onboarding, orientation, and invoice reconciliation.
HR's Role
Our Human Resources Department is at the heart of our healthcare organization. The HR team plays a critical role in areas such as:
Creating a workplace environment where employees feel supported, secure, and capable of succeeding in their roles
Recruiting and hiring talent
Onboarding new employees
Managing employee benefits, salaries, and retirement plans
Maintaining regulatory compliance
Handling tax audits
Ensuring compliance with the Affordable Care Act
Impact on Patient Care
Although a large part of what they do is behind the scenes, our HR team takes great pride in creating a healthy work environment for our employees, which has a direct, positive impact on our patients.
One of the department's priorities is to provide support to our employees. Assisting employees when they have questions or concerns and helping them solve some of their work-related problems helps them to be able to deliver care to our patients in a better way.
Our HR department works hard to recruit the right people for our open positions. They know that the people they choose to put in these roles will have a direct impact on the overall care of our patients.
According to Jill Wenger, "One of the things that we do for our patients is to make sure that the people working with them are qualified to do so. We complete this through license verifications and reference checks to ensure that those working with our employees are safe and competent."
A Patient-First Mindset
This team takes pride in their role of being patient-first, even beyond their HR responsibilities. Since their offices are located on the "main highway" near the main entrance and lobby area of the hospital, they get a lot of people stopping by looking for directions or various other types of assistance. When someone in the hallway looks as if they need directions, or they have questions, our HR team does not hesitate to approach them with a smile and offer help. It's not unusual for them to be caught doing things like getting wheelchairs for people and assisting people with heavy bathroom doors. These small gestures are what make a big impact on the overall care our organization provides to patients and guests.
Media contact: Elizabeth Collins, Director of Marketing and Communications | marketing@atchhosp.org | 913-360-5577