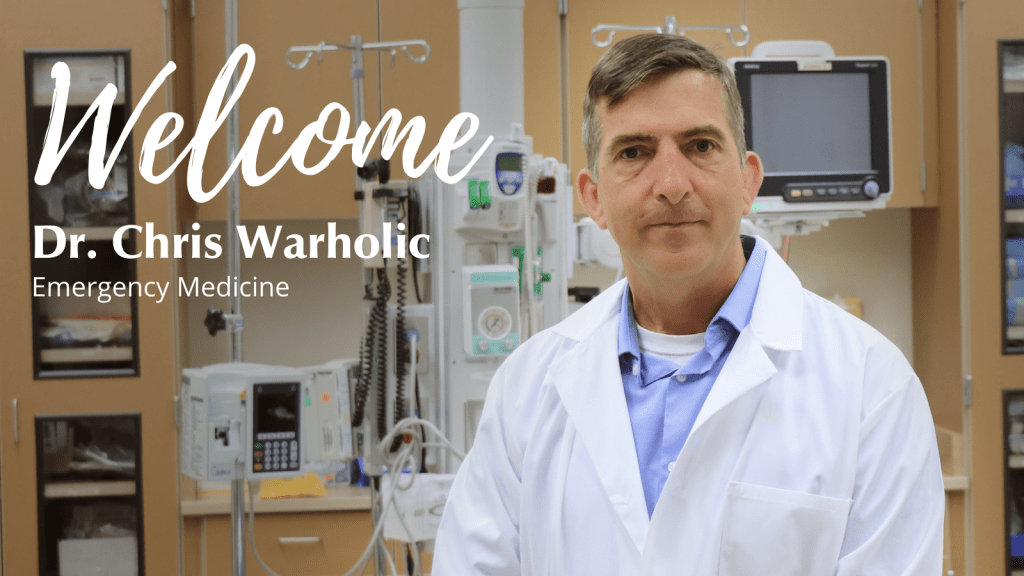 Atchison Hospital is honored to welcome Dr. Chris Warholic as a full-time provider with our emergency department team. Dr. Warholic's strong desire to help people drives his dedication to be an excellent doctor. He has a passion for lifelong learning and is always looking for ways to make a difference in people's lives.
Dr. Warholic is passionate about helping the vulnerable and underserved. He's volunteered his medical services at various free clinics in the greater Kansas City area and has worked to combat HIV/AIDS in the region. He's also volunteered at HIV clinics abroad in Cameroon and Kenya. Dr. Warholic helped establish the Virginia Wright Health Clinic located in a small, rural village in Kenya. The clinic is affiliated with the Friends of St. Anne's Girls' School that provides young girls the opportunity to get a good education, while the clinic gives them access to medical care. The clinic is a fully operational primary care and OBGYN clinic that serves the entire community.
On Being Patient-Centered…
At Atchison Hospital & Clinics, we focus on patient-centered care. We ask each of our providers to tell us what being patient-centered means to them personally.
"To me, being patient-centered means listening to patients' concerns, determining their needs, and providing high-quality care," says Dr. Warholic, "all done in a manner which is respectful of their values and ultimately improves their physical, mental, and emotional well-being."
About Dr. Warholic
Dr. Warholic was born and raised in western Pennsylvania and has enjoyed a dynamic education and career life. After earning his undergraduate degree in biology from Indiana University of Pennsylvania, he completed a National Student Exchange Scholar program to the University of Hawaii where he assisted with research pertaining to bottlenose dolphins and humpback whales. He then completed another bachelor's degree in occupational health and safety and worked in administration at Duke University. A job opportunity at KU Medical Center brought him to the Midwest. Having always wanted to go into medicine, Dr. Warholic decided to go back to school to earn his medical degree and has been thriving in the medical field ever since.
In his free time, he enjoys playing guitar, practicing judo, exercise, and travel.
Educational Background
Dr. Warholic received his first bachelor's degree in biology and a second in occupational health and safety, both from from Indiana University of Pennsylvania. He then went on to earn a master's degree in environmental health from the University of Kansas. After a successful career in occupational and environmental safety, he went back to school for his Medical Degree from the University of Kansas School of Medicine. He performed his residency at Kansas University Medical Center, where he was chief resident.
We are very grateful to have Dr. Warholic join the medical staff of Atchison Hospital.
Media contact: Elizabeth Collins, Director of Marketing and Communications | marketing@atchhosp.org | 913-360-5577