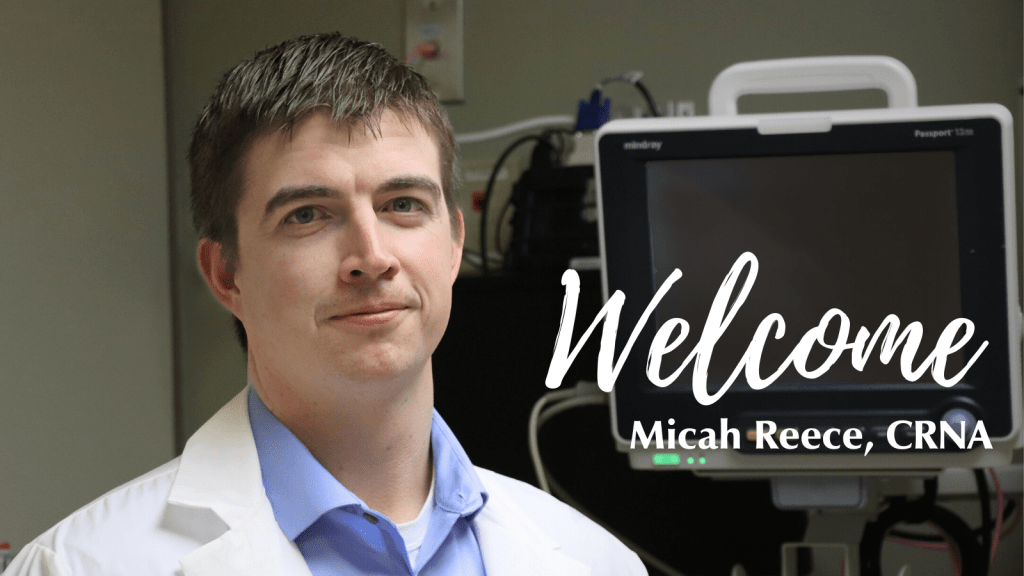 Certified registered nurse anesthetist Micah Reece is the newest member of our surgical services team, relocating to Atchison with his wife and two children. Micah was a critical care nurse for three years before earning his Doctor of Nursing Practice. He joins Atchison Hospital & Clinics with four years' experience as a CRNA and exceptional talent in anesthesia. One of Micah's favorite aspects of being a CRNA is tailoring individualized anesthetic to each of his patients and catering to each individual patient's unique needs.
Pursuing a career in nursing seemed a natural fit for Micah as his mother was an RN. While growing up, Micah was accustomed to having a steady stream of people at his house asking his mother to clean up cuts and scrapes or asking questions about medications. While serving as a critical care nurse, his interactions with nurse anesthetists influenced him to continue his education and become a CRNA.
"I love how anatomy, pathophysiology, chemistry, and pharmacology impacts anesthetic and ensures that no two patients are the same. Tailoring an individualized anesthetic to each of my patients is one of my favorite parts of the job."
On being patient-centered
At Atchison Hospital & Clinics, we focus on patient-centered care. We ask each of our providers to tell us what being patient-centered means to them personally.
"To me, patient-centered means that the unique needs of each patient guide all clinical decisions," said Micah, "and that the patient is an active participant in their health care."
On choosing Atchison Hospital & Clinics
"I want to work in a setting where I can utilize every aspect of my training. At Atchison Hospital, I can do that as part of a close-knit team that puts patients first within an organization well-positioned for growth. The people I have met thus far have been incredible, and I'm very excited to contribute to such a strong group."
Educational background
Micah received his Bachelor of Science in Nursing from Washburn University in Topeka, Kansas, where he graduated with honors. He then earned his Doctor of Nursing Practice from the University of Kansas in Kansas City, Kansas.
Meet Micah Reece
"I am father to two boys, ages 3 and 1 and have been married for almost nine years to a beautiful wife that still hasn't figured out that she could do a lot better than me. We also have two cats that eat better than we do."
In his spare time
"I'm a big reader. I also like playing chess, astronomy, hiking (really anything outdoors), and watching random YouTube videos and convincing myself that I'm going to learn some esoteric skill that I will never use (still trying to figure out how to start blacksmithing, ha ha). Although, since becoming a dad, I spend most of my free time chasing down a toddler and building blanket forts in the living room, which, I don't care how old you are, is always fun."
Volunteering in the community
"In the past, I have done everything from working at soup kitchens to volunteering at the Red Cross to collecting toys for foster children. My wife and I are VERY excited to get involved in our new hometown."
We are so grateful that Micah has chosen to join the anesthesia team at Atchison Hospital & Clinics.
Media contact: Elizabeth Collins, Director of Marketing and Communications | marketing@atchhosp.org | 913-360-5577