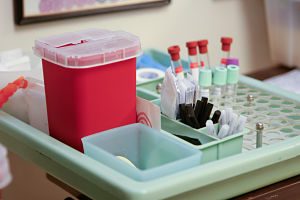 Our goal at Atchison Hospital Laboratory is to provide timely and accurate results to our clinicians to assist in the evaluation, diagnosis, treatment and monitoring of our patients. All disciplines of the laboratory display a high level of efficiency while complying with all federal and state regulations. The laboratory staff maintains a commitment to provide affordable, quality care to all citizens of the North East Kansas area. The goal of quality healthcare is achieved by utilizing the most modern electronic equipment. The lab not only serves the hospital, but also physicians offices, clinics, Business Health Services, drug and alcohol rehabilitation services, Home Health agencies and nursing homes of the community and surrounding areas.
We are a full-service clinical laboratory operating 24 hours a day, 7 days a week, with a broad in-house menu for routine and STAT testing. Our full-service consist of:
Blood Bank - Immunohematology
Chemistry
Hematology
Immunology/Serology
Urinalysis
Urine Drug Screening
Microbiology through LapCorp of America
Pathology - provided by Litton Pathology Associates
Our friendly staff consists of Medical Technologists and Medical Technicians certified by the American Society of Clinical Pathologists Board of Registry or the Registry of the American Medical Technologists and skilled phlebotomists. We are proud to offer these highly trained professionals who have a collective experience of over 285 years to serve you. Our laboratory is under the supervision of our Medical Director, Dr. Jamie Porter, MD. Dr. Porter is a board certified pathologist with Litton Pathology Associates.
Atchison Hospital Laboratory is accredited by the American Osteopathic Association through HFAP and by CLIA. We are located next to admitting and the emergency department for the optimum service to our patients.
Outpatient Lab Hours
Normal hours of operation:
Monday through Friday: 7 a.m. - 6 p.m.
Saturday: 8 a.m. - Noon (limited to as needed for fasting and special draws).