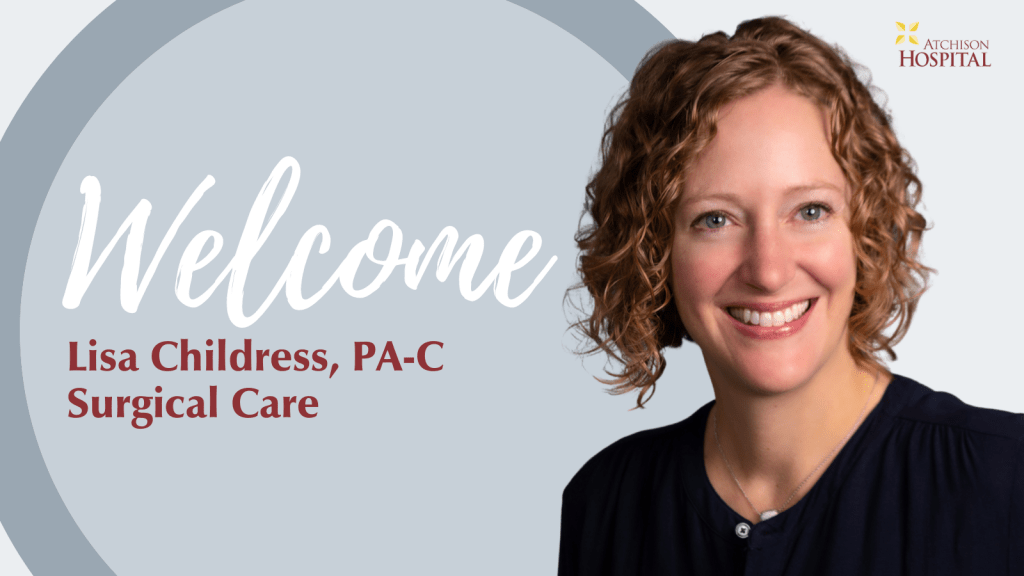 We are thrilled to welcome physician assistant Lisa Childress to our surgical care team. Lisa previously served for six years at Atchison Hospital & Clinics and is returning after spending a year at a larger healthcare system in Shawnee Mission. Lisa is excited to rejoin Atchison Hospital's surgical care team because she values patient-to-provider interaction, getting to know her patients, and supporting them during the complete surgical experience. Lisa has over ten years of surgical experience and is wound-care certified.
Lisa chose Atchison Hospital & Clinics because of its smaller atmosphere and the opportunity to get to know her patients personally. Although Lisa greatly enjoyed her time serving at a larger medical facility, she found that she had very little opportunity to interact with her patients beyond the operating table. "I really missed patient interaction," said Lisa. "I never got to have patient-to-provider interaction other than just talking to the patients on the phone and clearing them for surgery. I missed getting to know my patients."
Lisa has always valued the patient interaction aspect of serving in the medical field. "When I was a surgical technologist," Lisa said, "I came to realize that I wanted to have more direct patient care. As a physician assistant, I am able to continue to assist in surgery but also get to know patients and follow them throughout their perioperative period."
Lisa is also looking forward to serving alongside general surgeon Dr. Roderick Warren, whom she did not get a chance to work with during her previous time at Atchison Hospital.
Lisa practices patient-centered care, putting her patients' needs, wants, and interests first. She feels that as a provider, her job is to educate patients to help them make the best informed decisions. She looks forward to assisting with surgery and getting to know her patients in Atchison and its surrounding communities.
Lisa earned a bachelor's degree in Biomedical Sciences and a master's degree in Physician Assistant Studies from Marquette University in Milwaukee, Wisconsin. She holds wound care certification from the American Board of Wound Management.
Learn more about Lisa on her provider profile.
Media contact: Elizabeth Collins, Director of Marketing and Communications | marketing@atchhosp.org | 913-360-5577