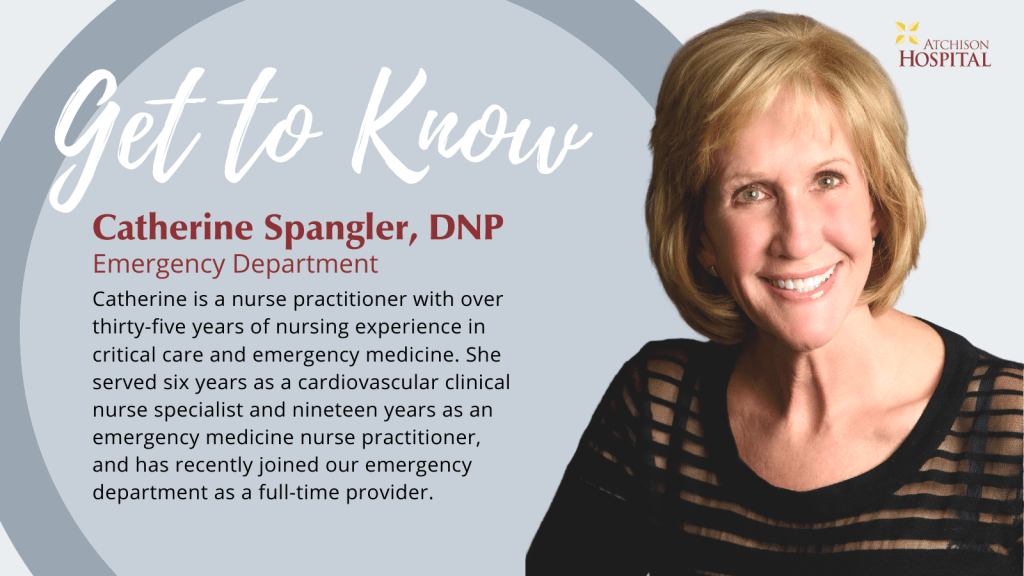 Catherine Spangler, DNP, has served part-time in the Emergency Department Atchison Hospital & Clinics since 2019 and has recently joined our full-time medical staff. Catherine is a board-certified nurse practitioner with over thirty-five years of nursing experience in critical care and emergency medicine. She served six years as a cardiovascular clinical nurse specialist and nineteen years as an emergency medicine nurse practitioner. Catherine is passionate about helping members of the community to live full and healthy lives.
On Being Patient-Centered…
At Atchison Hospital & Clinics, we focus on patient-centered care. We ask each of our providers to tell us what being patient-centered means to them personally.
"To me, being patient-centered means that all decisions are made, from administrative to bedside, with the patient as the primary focus," said Catherine. "This includes assisting the patient in care on an outpatient and inpatient basis, helping them achieve their optimal level of function."
On Choosing Atchison Hospital & Clinics...
Catherine became a nurse practitioner because she wanted to be a part of a team that works closely with communities and their members to obtain and maintain optimal health. She chose Atchison Hospital & Clinics because she enjoys the quality, compassionate, and personal care that the members of the community receive from Atchison Hospital & Clinics. "I appreciate the quality of the medical and nursing staff at Atchison Hospital & Clinics. What a great group of people!" said Catherine.
About Catherine
Catherine has two children and three grandchildren. Her son is in his final year of medical school with plans to practice family medicine, and her daughter studied economics and works in the insurance industry. Both of their spouses are teachers in the public school system.
In her free time, Catherine enjoys spending time with family and friends, gardening, exercise, and maintaining a healthy lifestyle.
Educational Background
Catherine received a nursing diploma from St. Luke's School of Nursing, a Bachelor of Science in nursing from Webster University, a Master of Science in nursing from Kansas University, a post-graduate APRN certificate in Family Practice from the University of Kansas, and a Doctorate of Nursing Practice from the University of Missouri-Kansas City.
We are grateful that Catherine has chosen to serve at Atchison Hospital & Clinics.
Media contact: Elizabeth Collins, Director of Marketing and Communications | marketing@atchhosp.org | 913-360-5577