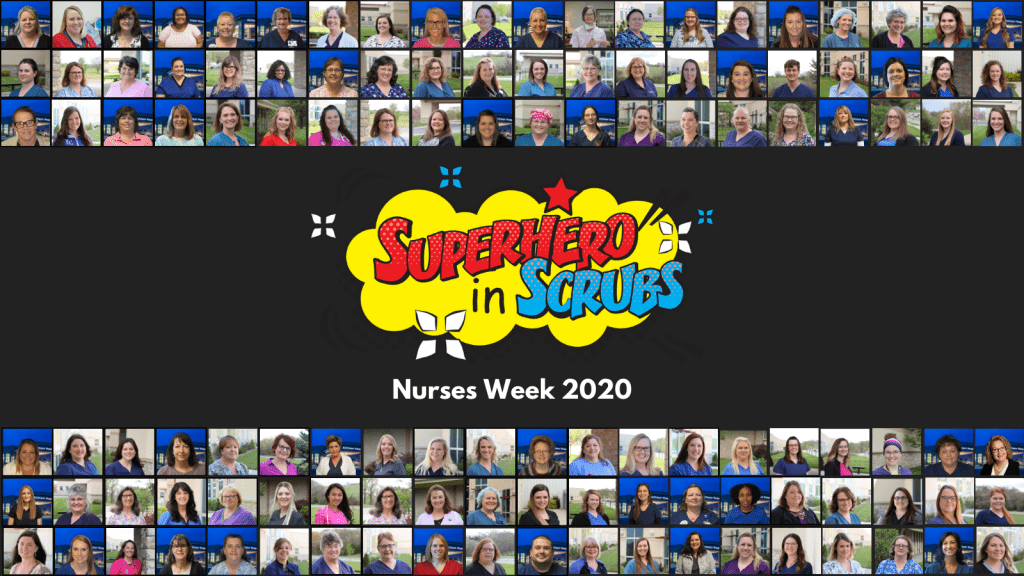 Celebrating Our "Heroes in Scrubs"
Nursing is the thread that connects a patient's healthcare journey from the beginning of life to the end of life. Across every aspect of the patient experience, nurses provide and protect the needs of each individual patient, and we are excited to celebrate our nurses in honor of Nurses Week 2020. This year, in light of the current state of healthcare around the world, we chose to focus on nurses as heroes, and we are extremely proud to have over 120 "superheroes in scrubs" serving at Atchison Hospital & Clinics.  
 Nurses are capable of performing great feats of heroism, like reviving someone who has gone into cardiac arrest or identifying the signs of a stroke and taking the appropriate actions to ensure a patient's survival and recovery. Yet, nurses often display their heroism in more subtle ways. From providing a tissue to a tearful child who has broken his arm, offering a supportive shoulder to an elderly patient recovering from a hip replacement, or simply by being a comforting presence to a family receiving life-altering news about a loved one's health, every action that a nurse performs makes an impact on someone's life every day.
What makes a nurse a (super)hero?
Nurses are protectors. 

Nurses act as patient advocates to protect the interests of their patients when their patients are unable to protect their own interests due to illness or a lack of health knowledge. 

 

Nurses are concerned with the wellbeing of others. 

Nurses have long been revered for their compassion and dedication to others

,

 and, especially, to their patients.  

 

Nurses have moral integrity. 

Nurses have been identified by society as people 

who

 can be counted on to do the right thing and to treat people with dignity and respect. 

Every day

, patients trust their nurses to provide comfort, give them correct doses of medication, help them move around

,

 

keep their confidences

, and

, in all aspects, administer 

proper and appropriate care

. 

 

 

Nurses are brave. 

More importantly, nurses help their patients to be brave. Going to the doctor, having surgery, or being admitted into the hospital typically cause

s

 people to fear. Nurses stand by their patients and their patients

'

 families to comfort 

them 

and help them face those fears. Nurses tend to be optimistic by nature and have a knack for helping people see the good in even the most difficult situations. 

 

 

Nurses are specifically trained to be heroes.

 Nurses have obtained the necessary skills and knowledge to make a difference in their patient's lives. They endure hours of intensive training and careful study to be ready and able to step up whenever and wherever their skills are needed.

 
Our nurses are all about our patients.
At Atchison Hospital & Clinics, our patients are at the center of everything our nurses do. Our nurses strive to make their patients feel welcome, safe, and secure in the care that they give them. Whether they're coming in for an office visit or calling with a question, our nurses work to communicate the patient's needs to their Providers and give them the answers that they need. They do whatever they can to put their patients' needs first.  
Thank You, Nurses, For All You Do!
Atchison Hospital nurses are the best! They come together every day to form a great team of caregivers! They support and care for each other and the patients. The nurses at Atchison Hospital are funny and fun, caring, and compassionate! I'm proud to be part of this great team of nurses! Thank you for all that you do every day! Your kind, compassionate care sets you apart. You do what needs to be done without complaint. I am thankful for each one of you and proud to be part of this team!
Nurses at Atchison Hospital have your back! We can depend on other departments to come and help if needed when we're having an emergency or just really busy. I feel that most of us all know each other and are kind to each other, kind of like a family of siblings. We may have disagreements, but when it comes right down to it, we are here for each other. Their commitment, talent, and skills are amazing! I am so grateful for each one of the ladies that make the OB department as great as it is!
Jessie in Advanced Health Services does an awesome job of always smiling and making the patient feel welcome and cared for. She is compassionate and delivers high quality care with each patient encounter. Her caring and giving attitude makes her patient care skills shine. She provides excellent care to our patients.
Cheryl VanWey does an excellent job in utilization review/case management. Her years of experience shows as she's the 'go to' person to determine appropriate levels of care for the organization. She is passionate about her role, and takes pride in what she does every day. She participates in rounds and collaborates well with the entire team. Cheryl is a definite asset to Atchison Hospital and her director!!!
I want to say 'Thank You' to the Atchison Hospital Clinic Nurses for being such a great team of nurses to work with! You are kind, hardworking, and accountable to your Providers and your patients. I am proud to be working alongside such a great group of people.
This is a great group of individuals that come together to form an amazing team! They work hard through whatever situation is thrown their way, and always put the patient first. I'm so thankful to be part of the Home Health & Hospice team.
Entering into a new position and trying to learn the ways of a new organization is challenging, but when you throw a historic pandemic into the mix, I could have easily been overwhelmed. This extraordinary group of leaders that I am privileged to work with every day provide the motivation and inspiration to come to work every day. Their positive attitudes and dedication to each other, our organization, and above all, our patients is inspirational. Not one time through any of this have I heard "that's not my job," or "that's not my problem." There is always a feeling of "here is the need, what do we need to do to take care of it?" I could not be more blessed to be surrounded by such amazing people who truly care about their community!
Media contact: Elizabeth Collins, Director of Marketing and Communications | marketing@atchhosp.org | 913-360-5577