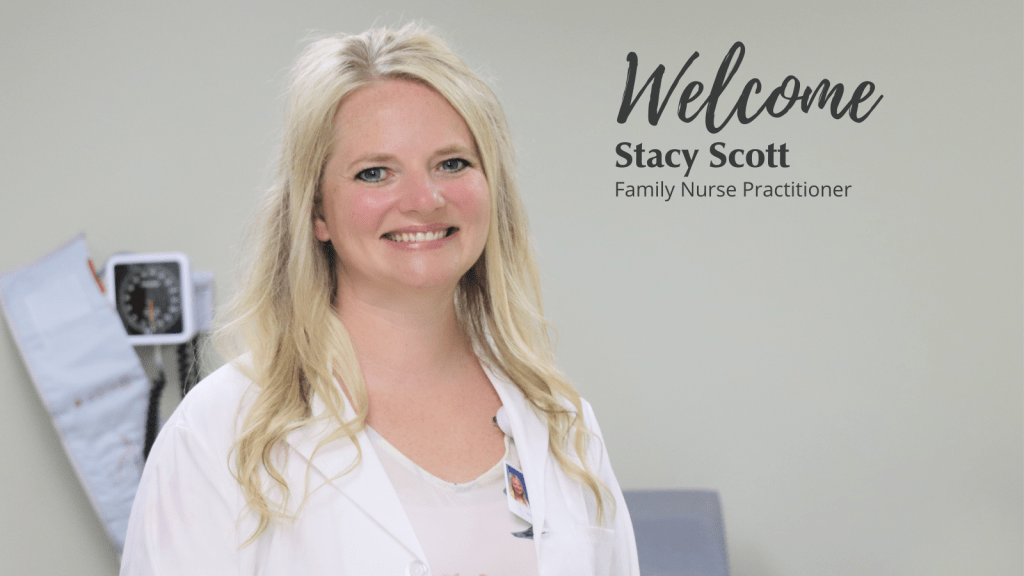 The community of Horton now has a full-time, family practice provider. We are excited to welcome Stacy Scott, FNP-C, to our Horton Clinic family care team. Stacy is the first full-time provider to join Horton Clinic and will begin accepting patients August 1. Stacy grew up in Northeast Kansas, and she and her family are excited to return to the area.  
Stacy knew from a young age that she wanted to help people by pursuing a career in the medical field. Stacy started working as a certified nurse assistant at a local nursing home in Sabetha when she was sixteen years old and progressed in her career to become a certified medical assistant, then a registered nurse, and now a nurse practitioner.  
She believes that family practice providers are the hub of healthcare and vital to the health of the individual, the family, and the community. She enjoys caring for patients of all ages and watching families grow.  
Stacy loves providing patient-centered care. "Patient-centered care involves the patient's input on treatment plans for their own health condition," she explains. "As a provider, I can inform, educate, and present different treatment options to the patient, but together, we can develop a treatment plan that best suits the patient's goals for his or her health."   
For the past three years, Stacy has served as an APRN in the primary care and walk-in clinics of Mena Regional Health System in Mena, Arkansas, caring for people of all ages with various conditions. Prior to her time in Arkansas, she served in healthcare facilities in Topeka, Kansas, and Sabetha, Kansas.   
Stacy received a bachelor's degree in Human Biology from the University of Kansas in Lawrence and a second bachelor's degree in Nursing from Baker University School of Nursing in Topeka, where she graduated with honors. She then earned her master's degree in Nursing–Family Nurse Practitioner from Fort Hays State University in Fort Hays.
Learn more about Stacy Scott on her provider profile.
Media contact: Elizabeth Collins, Director of Marketing and Communications | marketing@atchhosp.org | 913-360-5577