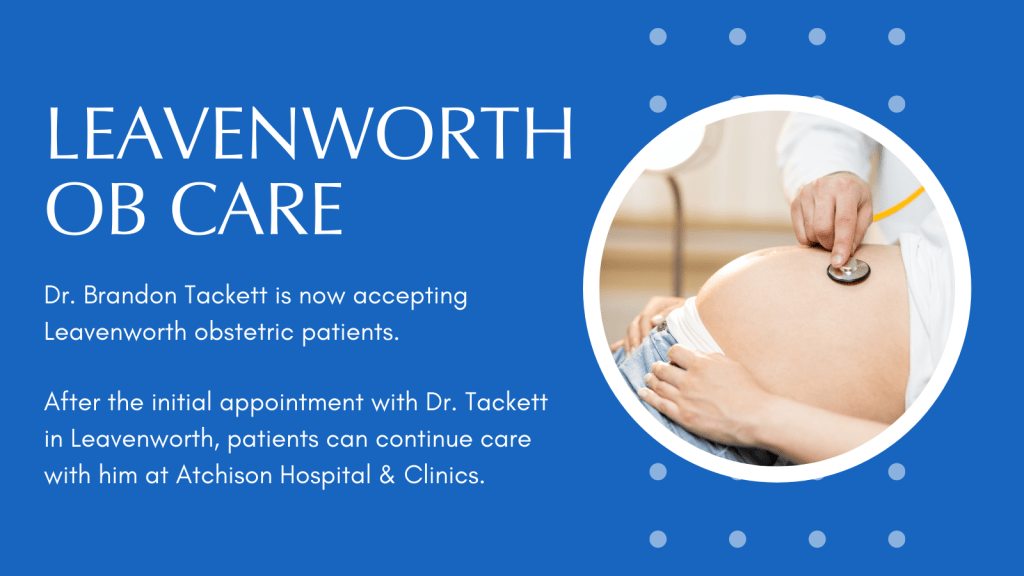 Dr. Brandon Tackett is now accepting Leavenworth obstetric patients. Dr. Tackett will conduct the initial obstetric appointment at the Advanced Health Services clinic in Leavenworth. Then patients can continue care with him at Atchison Hospital & Clinics, a short, 25-minute drive from the heart of Leavenworth. 
At Atchison Hospital & Clinics, your safety and comfort are our top priority. Our OB doctors and nurses have expertise in both vaginal and cesarean section births. We offer one-to-one personal nursing care and ensure that your doctor delivers your baby. Our birthing suites are private and hotel-like. In recognition for our quality care, treatment, expertise, and overall patient results, our program has been identified as a Blue Distinction Center+ for Maternity Care. We offer free childbirth education classes and free breastfeeding support. 
Meet Dr. Brandon Tackett
Dr. Brandon Tackett specializes in family medicine and obstetrics at Atchison Hospital and Clinics. He is an avid sportsman and enjoys outdoor activities like disc golf, regular golf, skiing, snowboarding, backpacking, and biking. He serves at Atchison Hospital and Clinics alongside his wife Bonnie.
Click here to learn more about Dr. Tackett and the OB program at Atchison Hospital & Clinics.
Media contact: Elizabeth Collins, Director of Marketing and Communications | marketing@atchhosp.org | 913-360-5577