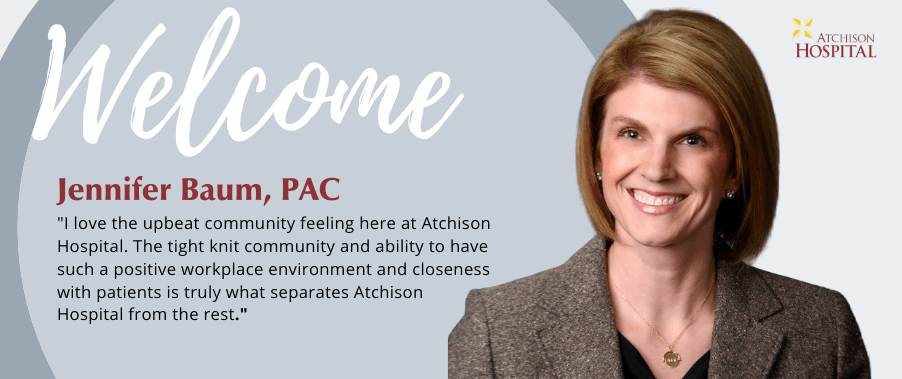 Atchison Hospital is excited to welcome Jennifer Baum to our General Surgery Department.
Having previously worked in the Emergency Department in 2013, Jennifer already loved the upbeat, family-community feeling at Atchison Hospital. She was impressed with how the staff genuinely cared for their patients and each other, which elevated patient satisfaction. Jennifer appreciates the higher level of closeness with patients that separates Atchison Hospital from the rest.
Having been raised by a physician and a registered nurse, Jennifer knew from a young age that she wanted to practice medicine. She also wanted the ability to maintain a fulfilling life outside of work and start a family. Becoming a Physician Assistant was the perfect fit for a balanced home and work life.
Jennifer received her undergraduate degree in biology from Baker University and her Master of Physician Assistant Studies with distinction from Union College in Lincoln, Nebraska. She is certified by the National Commission on Certification of Physician Assistants and has a decade of experience in her field.
"To me, patient-centered means placing all of the patient's care around their needs and putting the patient's concerns at the forefront of their care," says Jennifer. "Everything I do for the patient is thought of first from their perspective: How will the care I am providing the patient affect the patient and their family? I want my patients to know that they are my first priority and to feel they've received the best care I can provide to them."
Learn more about Jennifer Baum on her provider profile.
Media contact: Elizabeth Collins, Director of Marketing and Communications | marketing@atchhosp.org | 913-360-5577