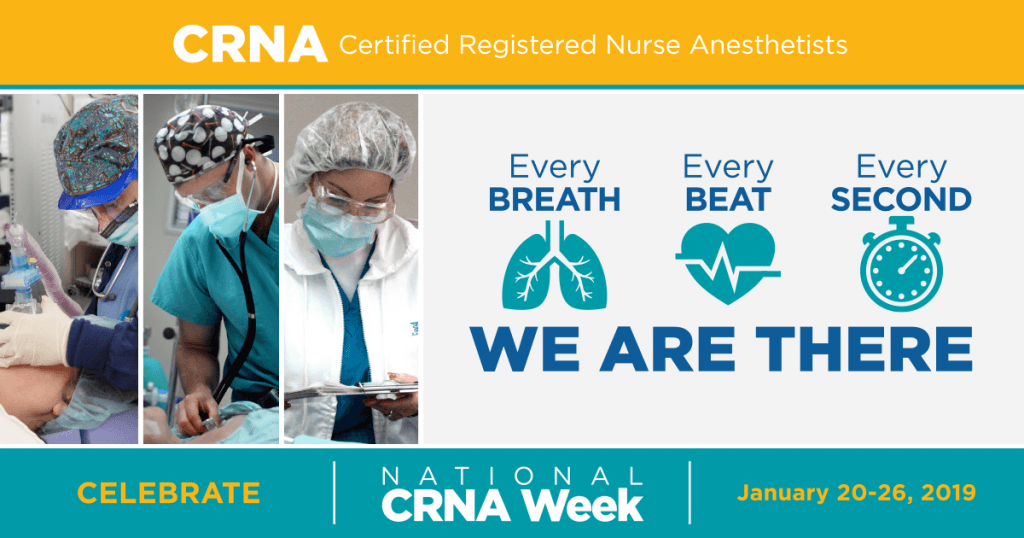 Certified Registered Nurse Anesthetists (CRNAs) will be educating the public about the role CRNAs take in providing safe and effective anesthesia care for every patient during the 20th annual National CRNA Week celebration taking place January 20-26, 2019.
CRNAs' emphasis on safe, effective anesthesia care highlights one of the many hallmarks of nurse anesthesia; in fact, it is the motto of the American Association of Nurse Anesthetists (AANA). 
Five ways CRNAs make a difference every day include:
Safety First: CRNAs are highly trained anesthesia professionals who safely administer more than 45 million anesthetics to patients each year in the United States, according to the AANA 2017 Practice Profile Survey.
Rural America: CRNAs are the primary providers of anesthesia care in rural America, enabling healthcare facilities in these medically underserved areas to offer obstetrical, surgical, pain management and trauma stabilization services. In some states, CRNAs are the sole providers in nearly 100 percent of the rural hospitals.
Military Presence: Nurse anesthetists have been the main providers of anesthesia care to U.S. military personnel on the front lines since WWI. Nurses first provided anesthesia to wounded soldiers during the Civil War.
Practice Settings: CRNAs practice in every setting in which anesthesia is delivered: traditional hospital surgical suites and obstetrical delivery rooms; critical access hospitals; ambulatory surgical centers; the offices of dentists, podiatrists, ophthalmologists, plastic surgeons, and pain management specialists; and more.
Cost-Efficiency: Managed care plans recognize CRNAs for providing high-quality anesthesia care with reduced expense to patients and insurance companies. The cost-efficiency of CRNAs helps control escalating healthcare costs.
Atchison Hospital has two full-time CRNAs that provide anesthesia services from the emergency department to the operating theater, from infants to seniors to include acute and chronic pain management. As a matter of fact, in 2018, over 1500 anesthetics were provided at Atchison Hospital in the above mentioned areas and 70% of those patients were cared for by CRNAs. "It is an honor and a privilege to take our patients through anesthesia and a safe surgical experience," said Charlie Wilson, CRNA. "Surgery and anesthesia can be intimidating, but we take pride in staying with our patients, administering their anesthetics and watching over their vital signs – advocating for them throughout surgery. We take great pride in being there for every breath, every beat, and every second of their anesthetic."
"While 2019 marks the 20th year for National CRNA Week, the nurse anesthesia profession actually began more than 150 years ago during the American Civil War. Since then, we have taken great pride in administering safe, high-quality anesthesia with the level of care and compassion that is synonymous with being a nurse," said Dr. David Hart, DNP, CRNA, NSPM-C. "In today's healthcare climate, CRNAs are the key to the future of anesthesia care, as there is an increasing demand for highly qualified, non-MD/DO healthcare specialists who can ensure access to patient care that is both extremely safe and cost-effective. Through this campaign, we aim to highlight the valuable role that CRNAs play today and will continue to play tomorrow." 
About the Kansas Association of Nurse Anesthetists

On October 16, 1940, The Kansas Association of Nurse Anesthetists (KANA), was founded by seven nurse anesthetists who met at the Wesley Hospital Nursing Home in Wichita.  This month, KANA will celebrate the fact that 110 out of 132 hospitals (83%) in Kansas rely solely on Certified Registered Nurse Anesthetists (CRNAs) to provide anesthesia care for their patients. CRNAs are advanced practice registered nurses who administer anesthesia in all types of cases.  Today more than 600 CRNAs practice across the state, and will commemorate 75 years of ensuring patient access to safe, cost-effective anesthesia care, especially in the vast rural areas.

The first KANA President was Viola Baker from Wichita, who served as president until 1945. "Nurses first gave anesthesia to wounded soldiers on the battlefields of the American Civil War, and administer 40 million anesthetics each year nationally," said KANA president, Christel Burke, CRNA, MS. "Our state organization was born in 1940, and we have been safely providing anesthesia during surgery, childbirth, emergency care, and chronic pain ever since.  Not many organizations make it to this momentous milestone."

Another special designation that KANA boasts is that in 2003, Kansas become the seventh state (out of 17 states to date) to opt out of the Medicare physician supervision rule for CRNAs, enabling healthcare facilities across the state to determine how best to staff and manage their anesthesia services. Kansas citizens have a long-standing history of dedicated, progressive, and high-quality CRNA care. 

"Every day, CRNAs make a profound difference in the wellbeing of their patients by providing safe, watchful care during life's most challenging moments," said Burke. "CRNAs stay with their patients throughout every type of procedure, monitoring their vital signs and adjusting their anesthetics to ensure their comfort and safety.  Working closely with all members of the patient care team, CRNAs are committed to watching over their patients from the time they go to sleep until the time they wake up."

About the American Association of Nurse Anesthetists

Founded in 1931 and located in Park Ridge, Ill., and Washington, D.C., the American Association of Nurse Anesthetists (AANA) is the professional organization representing nearly 53,000 Certified Registered Nurse Anesthetists (CRNAs) and student registered nurse anesthetists across the United States. As advanced practice registered nurses and anesthesia specialists, CRNAs administer more than 45 million anesthetics to patients in the United States each year and are the primary providers of anesthesia care in rural America. In some states, CRNAs are the sole anesthesia professionals in nearly 100 percent of rural hospitals. For more information, visit www.aana.com/ and www.future-of-anesthesia-care-today.com.