Social services manager Aggie Asher has been identified as one of "50 Kansans You Should Know" in the June 2020 edition of Ingram's Magazine. Over the past forty years, Aggie has touched many lives as a dedicated, compassionate social worker, and she has served thirty of those years at Atchison Hospital. In addition to receiving the Ingram's award, Aggie was also the recipient of the 2019 Atchison Hospital Leader of the Year award. Aggie was nominated and chosen for this recognition by a group of her peers, based on her servant leadership, consistent excellence, and overall impact in 2019. 
An Advocate for Her Patients
As a social worker at Atchison Hospital, Aggie collaborates with the hospitalists and the care team to help patients transition to the proper level of care after they have had surgery or have been admitted into the Medical Surgical/ICU unit. She also advocates for patients referred to her by our obstetrics care team, emergency department, our clinics, or the Department of Social Services. Aggie helps to ensure that each patient gets the support they need to be successful as they return to their homes or transferred to a care facility. Aggie also leads the Patient-Family Advisory Group, which serves to improve the patient-centered environment at the Atchison Hospital. 
Aggie's work requires a great deal of compassion and collaboration in the community to get patients the resources they need for recovery. "Every person has a unique story. It often takes multiple community collaborations and sometimes getting a little creative to meet the needs of those we care for," says Aggie. "Atchison Hospital serves an important role in the community beyond just physical care by being a point of connect for many different community partners that all work together to improve the whole health of our community residents." 
An Advocate in Her Community
Aggie is known throughout the community for her service to others. She led the founding of and still serves on the board of Live Well Live Atchison, a local non-profit focused on improving the quality of life in Atchison County through education, community action, and advocacy. Aggie was also a founding board member of the Atchison Community Health Clinic, a federal qualified health center, and still serves on their board. Aggie served on the board of Maur Hill-Mount Academy for six years and helped combine the two formerly separate schools of Maur Hill Prep and Mount Saint Scholastica Academy into one.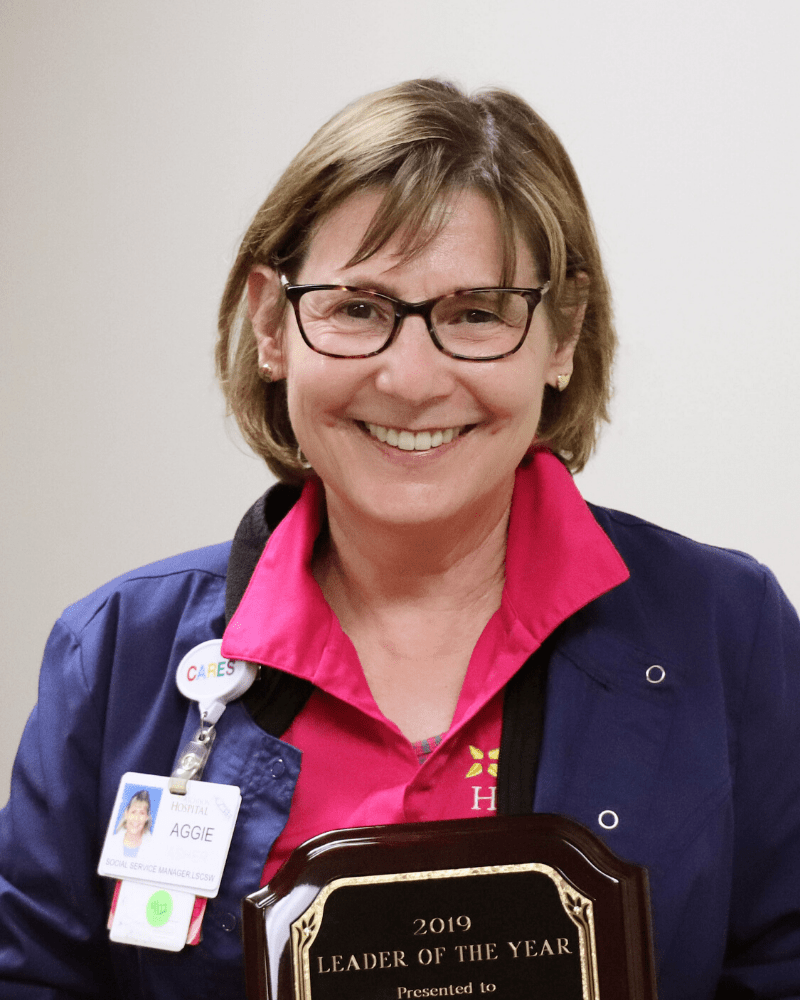 Aggie knew at a young age that she wanted to go into a profession focused on helping people and meeting their needs. Her parents instilled in her the desire to work with people and to help others by modeling their own charitable ways. She was also influenced by her aunt, who was a member of the Sisters of Charity, and the Benedictine sisters at Mount Saint Scholastica Academy, where she attended high school. Aggie obtained her Master of Social Work degree from the University of Kansas.  
Aggie and her husband Martin are Atchison natives. They have 4 children and 8 grandchildren. In her spare time, Aggie enjoys gardening and being outdoors. 
Media contact: Elizabeth Collins, Director of Marketing and Communications | marketing@atchhosp.org | 913-360-5577