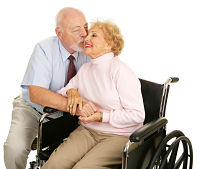 A major illness can turn your life upside down. The professionals in the Atchison Hospital Social Services Department can connect you and your family with resources in the community to meet your needs beyond medical treatment. We will provide you comfort, support and guidance when you need it most. Our job starts the day you are admitted to the hospital when we begin to evaluate what services or assistance you may need while you are with us and after you return home.
Here are some of the ways we can help you:
Counsel and lend emotional support to assist with adjustment to illness, injury, or loss
Explain things you don't understand using terms familiar to you
Educate about and assist with Advance Directives (i.e. Living Will, Durable Power or Attorney for Health Care, Outside DNR orders, Health Care Directions)
Notify your minister that you are in the hospital or arrange for a volunteer chaplain to visit you
Make referrals to support groups
Assist with filling out applications for Medicaid or Uncompensated Care
Arrange for services or equipment you will need to return home safely
Put you in touch with outside agencies or organizations that provide services you may need. For example:
- Northeast Kansas Area Agency on Aging
- Project Concern for Meals on Wheels and transportation
- NEKCAP (Northeast Kansas Community Action Program)
- Head Start
- Infants and Toddlers
- Parents as Teachers
- WIC (Women, Infants, and Children nutrition program)
- Salvation Army
- NEK Community Mental Health and Guidance Center
- All Faith Counseling Center
- Vocational Rehabilitation
- Achievement Services (Community Developmental Disability Organization)
- Veteran's Administration
- Kansas SRS (Social and Rehabilitation Services)
- DoVES (domestic violence services)
- HCBS contractors (organizations that help arrange services at home to maintain independence)
- Prescription Drug Program
- Assist Living and Long Term Care Facilities
- Home Health and Hospice Agencies
- Housing Agencies
- Kansas Legal Aid
- Drug and Alcohol Evaluation and Treatment
- DME companies (Durable Medical Equipment)
Grief Support Group
Have you lost someone close?
Have you felt overwhelmed with loss?
Want to discover ways to work through your grief?
You may benefit from grief support services here at Atchison Hospital. We offer a four session series two times a year in the spring and the fall.
In the sessions you will…
Learn what is normal and what emotions you might expect when someone you love dies.
Learn how to cope with the difficult feelings surrounding and following the death of someone close.
Receive emotional support from others who have lost loved ones.
Help others in the group by listening to their stories and sharing yours.
Ralph Dowell, MDiv, LSCSW will act as facilitator. You can call him at 913-360-5596 or email him at for details and more information. Ralph is a clinical social worker and has been leading grief support groups since 2002.
The sessions are provided by Atchison Hospital as a community service and there is no charge to attend.
Spiritual Care Program
The Atchison Hospital believes that the spiritual and emotional well being of patients is an important aspect of physical healing. We recognize that our local pastors are important providers of this care. Because not all of our patients have a local pastor available, we've established the Spiritual Care Program.
Our Spiritual Care Program provides spiritual care to our patients, their families, and the Atchison Hospital staff. Local professional ministers participate as volunteers as part of their service to the larger community. We offer supportive listening, prayer, anointing, baptism, and communion in times of uncertainty, discomfort, or crisis. Our ministers respect each patient's own spirituality and religious preference. We're here to help you.
For more information please contact Aggie Asher, Director of Social Services at aasher@atchhosp.org or 913-360-5597.
Helpful Websites