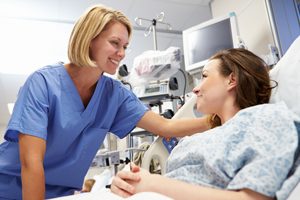 In an emergency, every minute counts and your greatest chance for the best outcome is getting to the nearest ER. At the Atchison Hospital Emergency Department, our highly skilled staff stand ready to care for you and your family 24 hours a day, seven days a week.
Meet our Skilled Professionals
The department is staffed around-the-clock with experienced physicians and physician assistants who are highly skilled in emergency medicine. Working with the medical team, a professional nursing staff certified in basic and advanced life support, emergency pediatric nursing, and trauma nursing will coordinate and deliver your care. Respiratory therapists and other clinical support staff also stand ready to meet your emergent health care needs.
Fully-equipped medical facility
As part of our commitment to provide you and your family with the Best Care, Right Here, the Atchison Hospital Emergency Department offers technologically advanced monitoring systems, an electronic medication system, a computerized physician order entry system that eliminates handwriting errors, and a wide array of diagnostic testing.
Our Care for You
From registration through triage where urgency of your condition is prioritized through nurse and provider assessment and care to discharge, our goal is to ensure that you have an excellent emergency care experience. Your safety and satisfaction are our highest priority. We commit to you and your family that we will:
Provide you with the highest standards of quality emergency medicine and nursing
Respect your rights to effective pain management, privacy, confidentiality, and self-determination
Provide an environment that is supportive of you and your family and loved ones
Give you information that will help you continue your care and foster your well-being after your discharge from the
Emergency Department
Be at your side, when you need us, caring for you and your family as our own!